Welcome to the Hollis Morgan Guide to selling by Auction
The most successful auctioneers in the region since 2010.
---
The Hollis Morgan philosophy is based on combining traditional high street agency with modern technology allowing us to build lasting relationships by listening to our clients, understanding your situation and delivering on our advice.
Our experienced team pride themselves not only on achieving the best results but the satisfaction of a job well done - this pragmatic approach has enabled us to build the largest firm of auctioneers in the West Country.
---
Covid has meant dramatic adjustments to our working practices, famous for our large public auctions we have adapted by launching a monthly Live Online Auction service – an interactive platform for Buying & Selling all types of land and property.
A Live online auction has all the benefits of a traditional auction such as speed & transparency but with the advantage of being able to bid from anywhere with the auction streamed live on the Hollis Morgan website and the option to bid by telephone, proxy or online.
In 2020 we sold nearly 150 lots by this updated method - we have embraced this change and move forward with our 2021 live online calendar of sales confident we can provide the best service for our clients.
---
In 2020 Hollis Morgan sold more lots by auction in Bristol, North Somerset & Gloucester than any other auctioneer!
In 2020 Hollis Morgan sold more £££'s of BS postcode lots than all the other local auctioneers combined!
Since 2010 we have offered more lots in our catalogue ( 2151 ) than any other local firm.
Bristol's most experienced auctioneer Andrew Morgan MBE – with forty years' experience on the rostrum.
Auction specific premium adverts on both the UK's biggest property portals Rightmove & Zoopla.
Digital Mailing list of over 20,000 Local, National, Regional and International Developers, Investors and family buyers.
Over 100 years combined property experience operating from our Regional HQ based in Clifton covering Bristol and the West Country.
Innovative yet simple marketing techniques such as virtual tours, drone shots, video tours, hi vis signage and professional photos.
Active and coordinated social media presence on Instagram, Twitter, LinkedIn and Google retargeting programme.
Fixed Timescales & Speed
Exchange on the day with a quick & fixed completion of 4, 6 or 8 weeks.
Closure & Control
10% non refundable deposit taken upon exchange and the deal is done unlike a traditional sale.
High Profile Sale
Intensive 4-6 week marketing campaign to make your lot visible and available to all potential buyers.
Guaranteed Price
You set a minimum reserve which protects you from selling for any less than you want.
Transparency & Competitive Bidding
Auction provides a transparency of sale ensuring your lot is sold to the person willing to pay the most on the day.
Fixed Timescales & Speed Exchange on the day with a quick & fixed completion of 4, 6 or 8 weeks.
Closure & Control 10% non refundable deposit taken upon exchange and the deal is done unlike a traditional sale.
High Profile Sale Intensive 4-6 week marketing campaign to make your lot visible and available to all potential buyers.
Guaranteed Price You set a minimum reserve which protects you from selling for any less than you want.
Transparency & Competitive Bidding Auction provides a transparency of sale ensuring your lot is sold to the person willing to pay the most on the day.
We are confident our results speak for themselves….
In 2020 Hollis Morgan sold more lots by auction in Bristol, North Somerset & Gloucester than any other auctioneer!
Selling in Bristol - No firm sold more lots in the BS postcodes in 2020 than Hollis Morgan with a 44% market share.
Click to

View Auctions Statistics
2010-20
Total Lots Sold 2020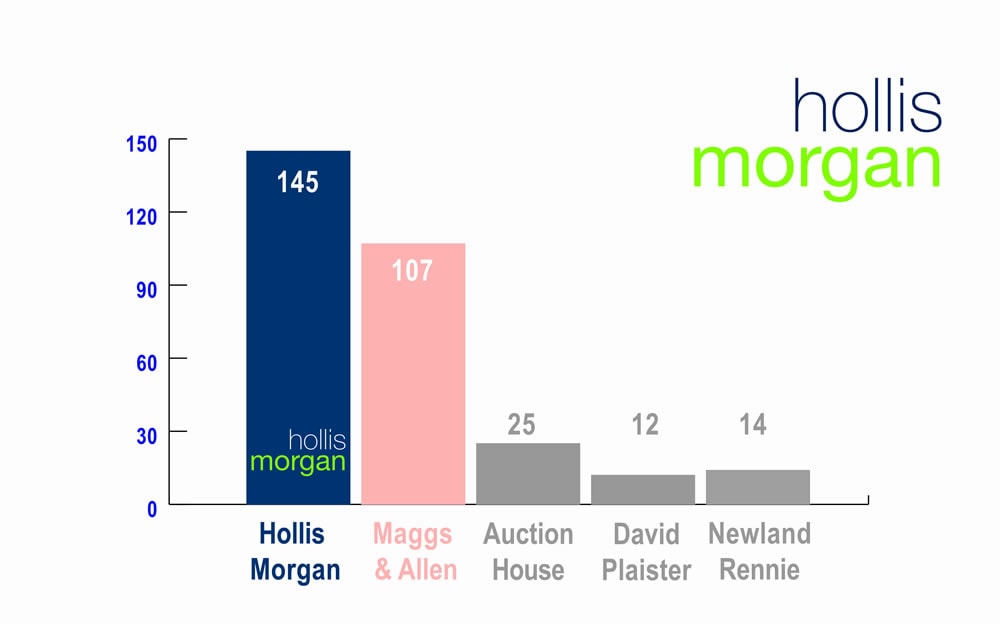 *Source EIG - The graph is only showing Bristol based auctioneers.
---
In 2020 Hollis Morgan sold the most £££'s of Land & Property located in Bristol by any Bristol Auctioneer.
Total £££ Raised 2020 £m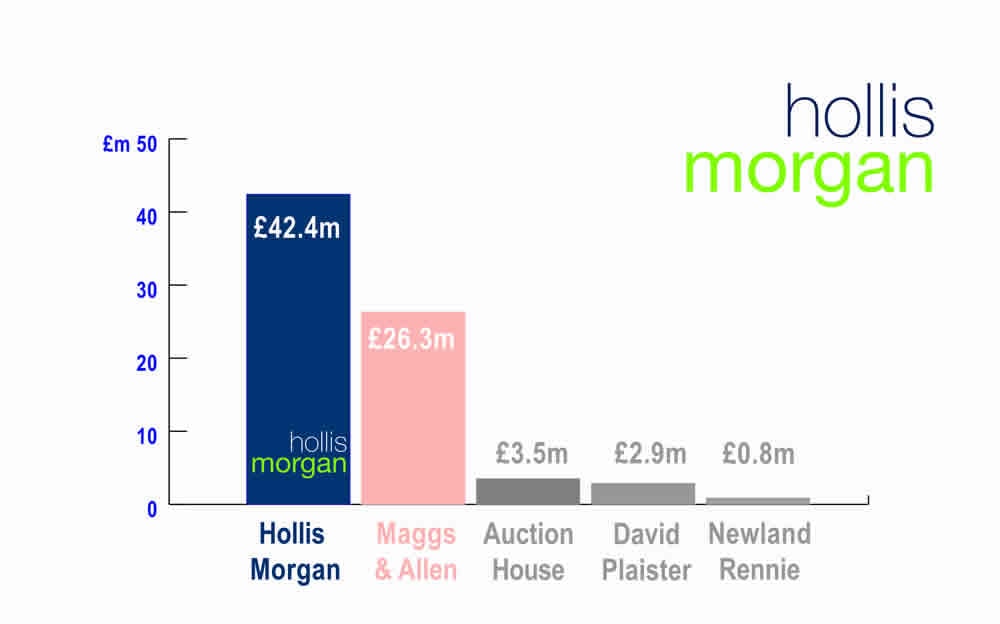 *Source EIG
---
Since 2010 Hollis Morgan has consistently outperformed Maggs & Allen – Selling 52 % more land and property for on average higher prices above the guide in Bristol, North Somerset and Gloucester.
Total Sold (£m) 2010-20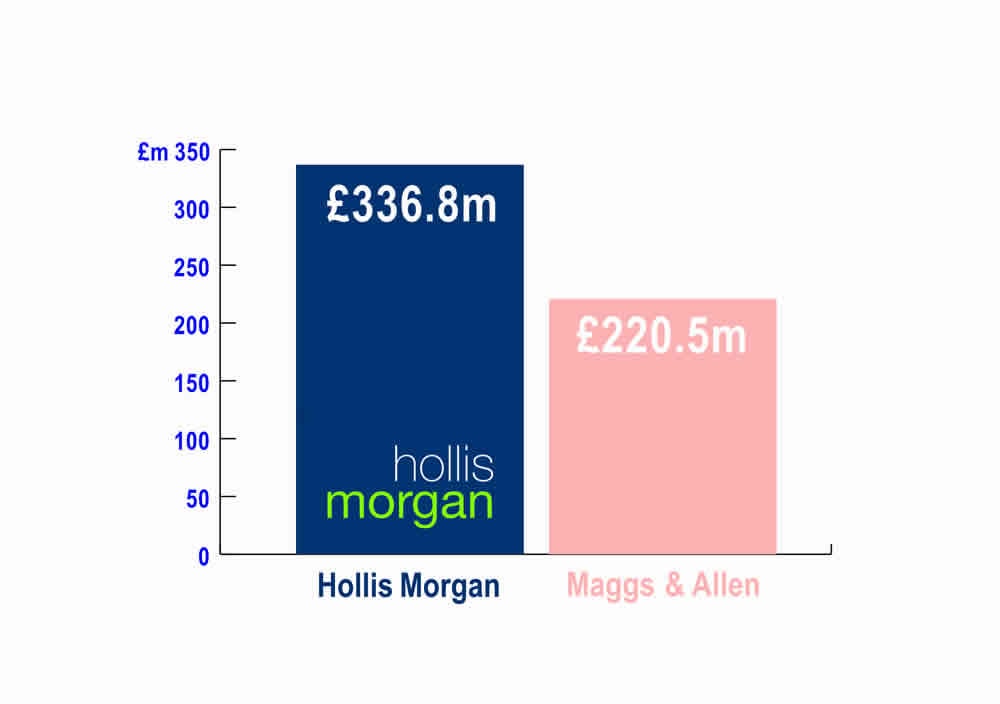 Market Share Since 2010 %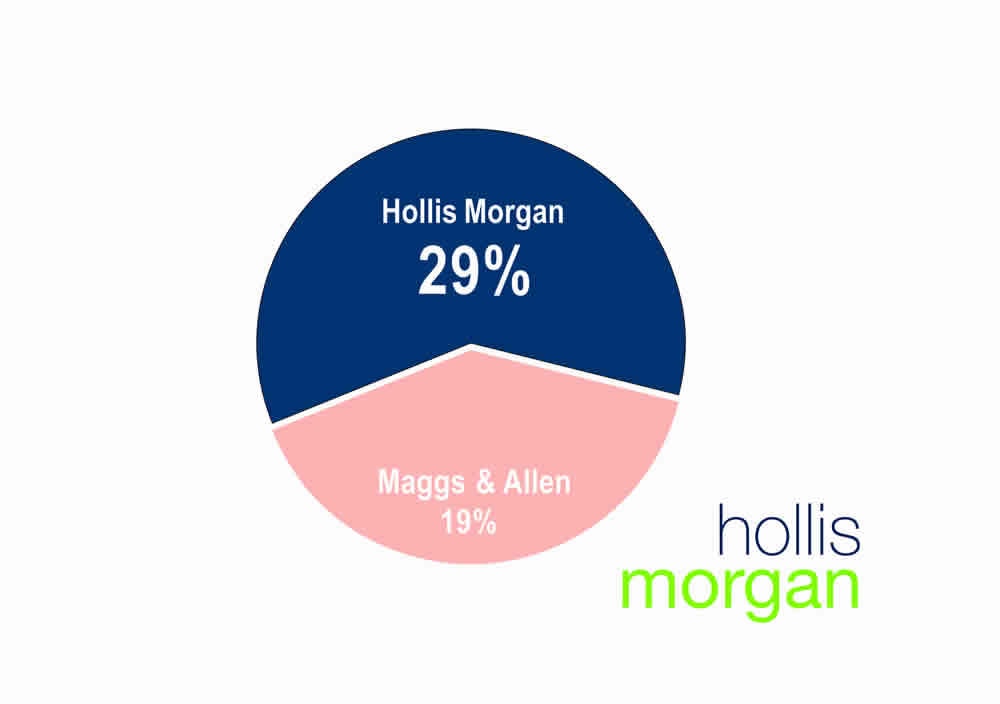 *SourceEIG
---
Since 2010 Hollis Morgan have had the largest catalogue, sold the most number of lots with the highest average sale price and the highest average % achieved above the guide.
Average Sold Price Above Guide Price Since 2010 %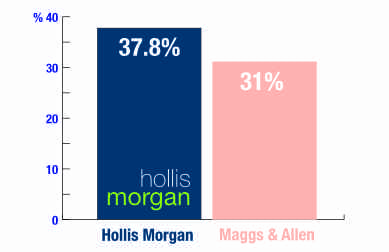 Total Lots in Catalogue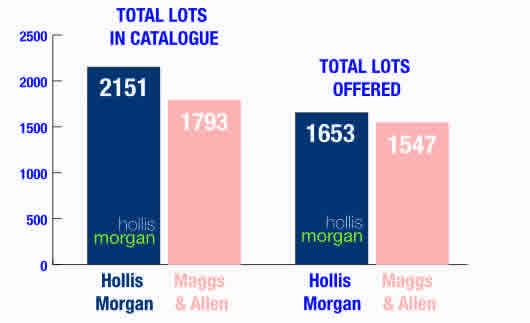 *Source EIG
Selling a lot under £250,000 in value?
Hollis Morgan consistently achieve the best prices for lots under £250,000 at auction achieving on average 17.6 % over the guide price in 2020 – and we sold 31 % more lots than Maggs & Allen in this price range.
In fact since 2010 Hollis Morgan have sold over 850 lots under £250,000.
% Over Guide for Lots Under 250k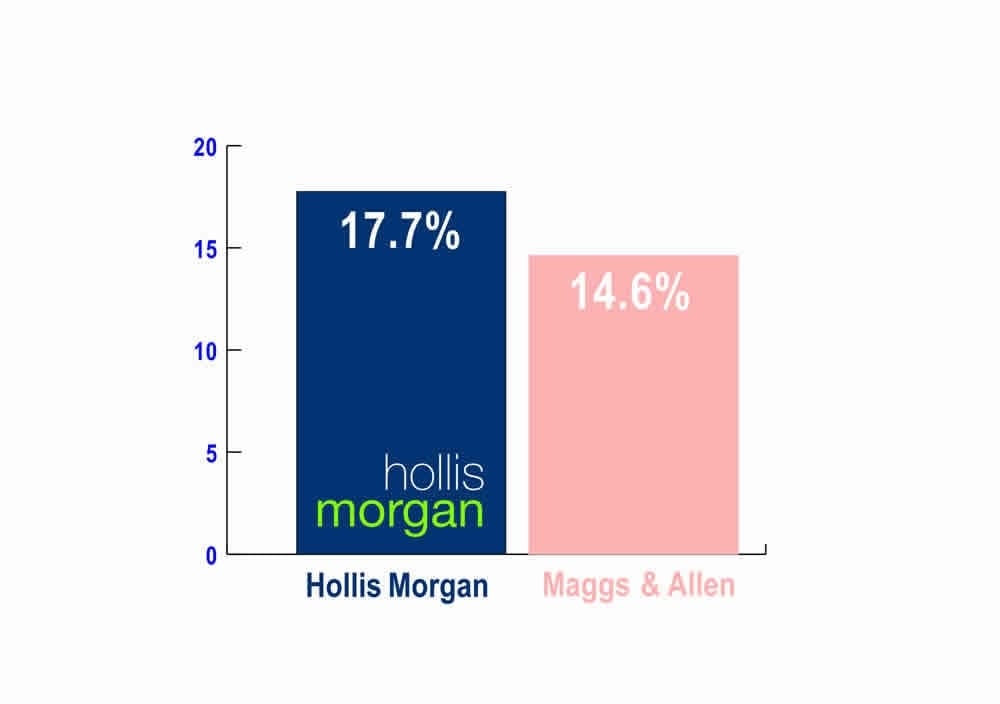 Is your lot worth £250,000 - £500,000?
Since 2010 Hollis Morgan have sold 64 % more lots in the £250,000 - £550,000 range and raised more £££'s in sales than Maggs & Allen.
In 2020 we sold nearly £20m of lots in this price range – 40 % more than Maggs & Allen.
Lots Sold Between 250k & 500k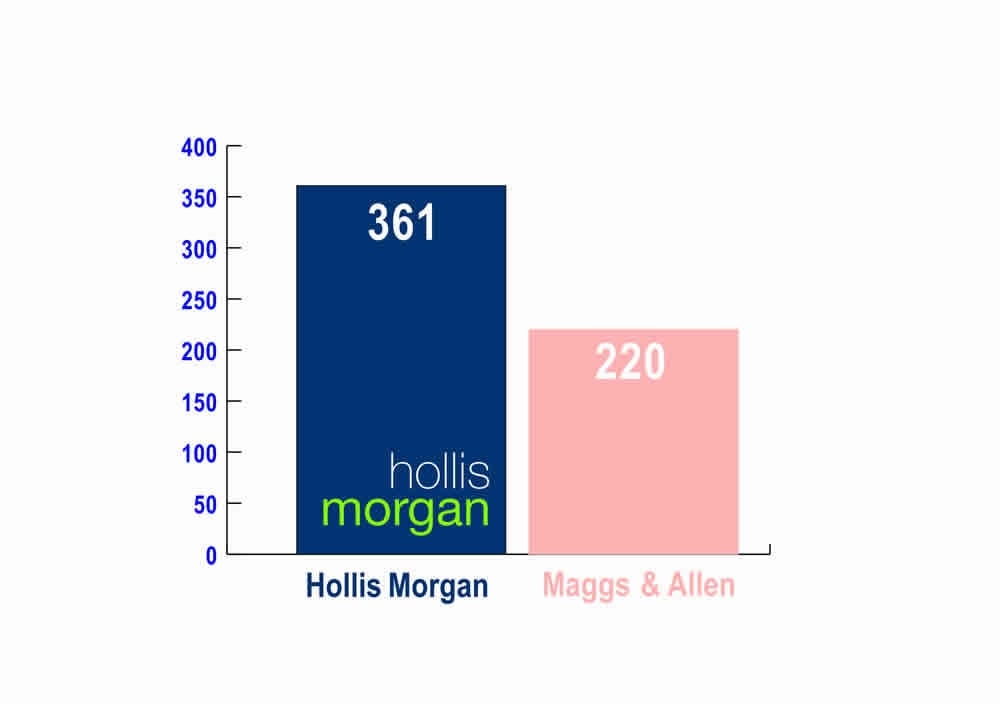 Total Sold (£m) £250k - £500k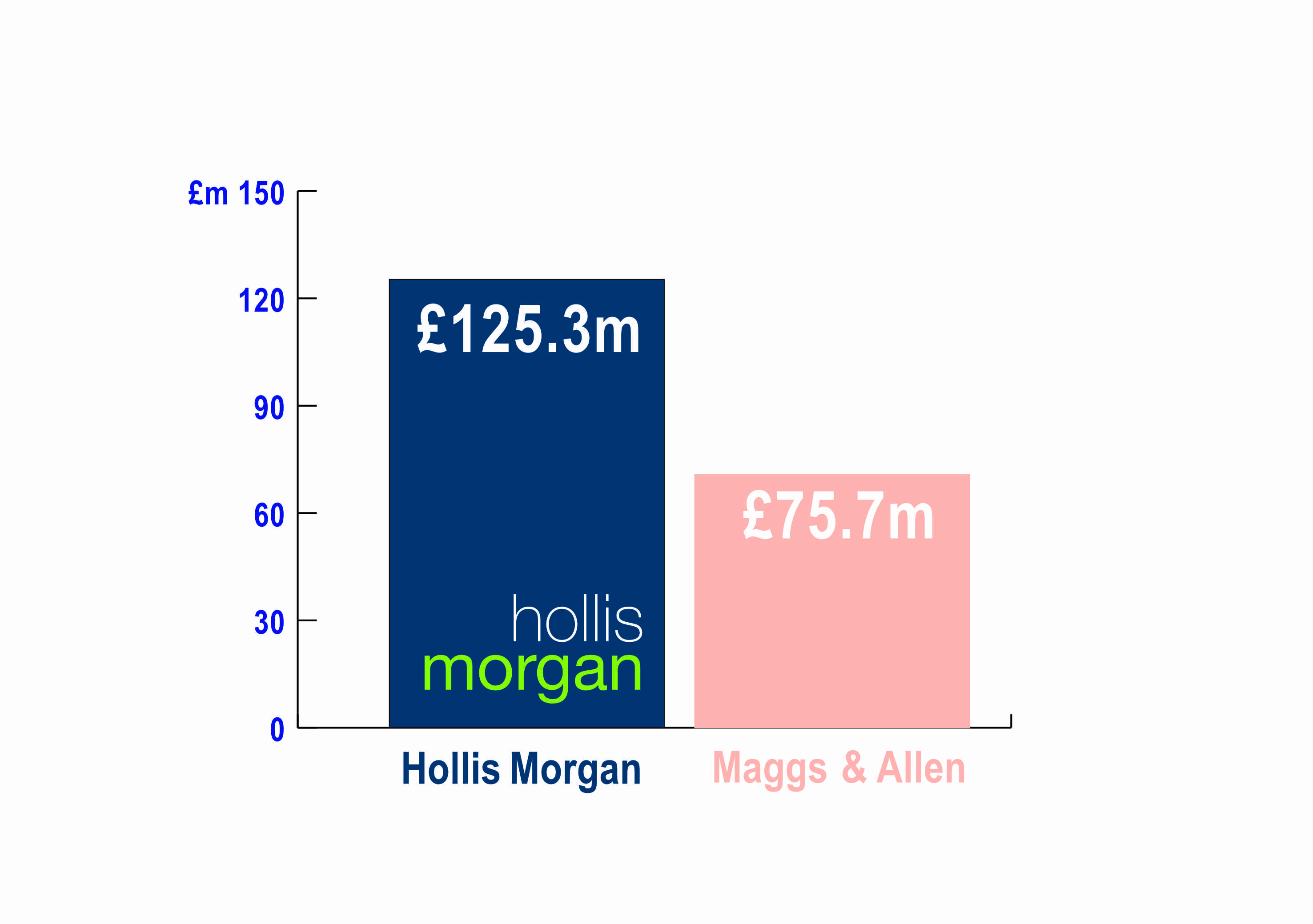 *Source EIG
Selling a property in excess of £500,000?
Since 2010 Hollis morgan have sold 5 times as many auction lots over £500,000 than Maggs & Allen raising 565 % more £££'s for our clients.
Lots Over £500k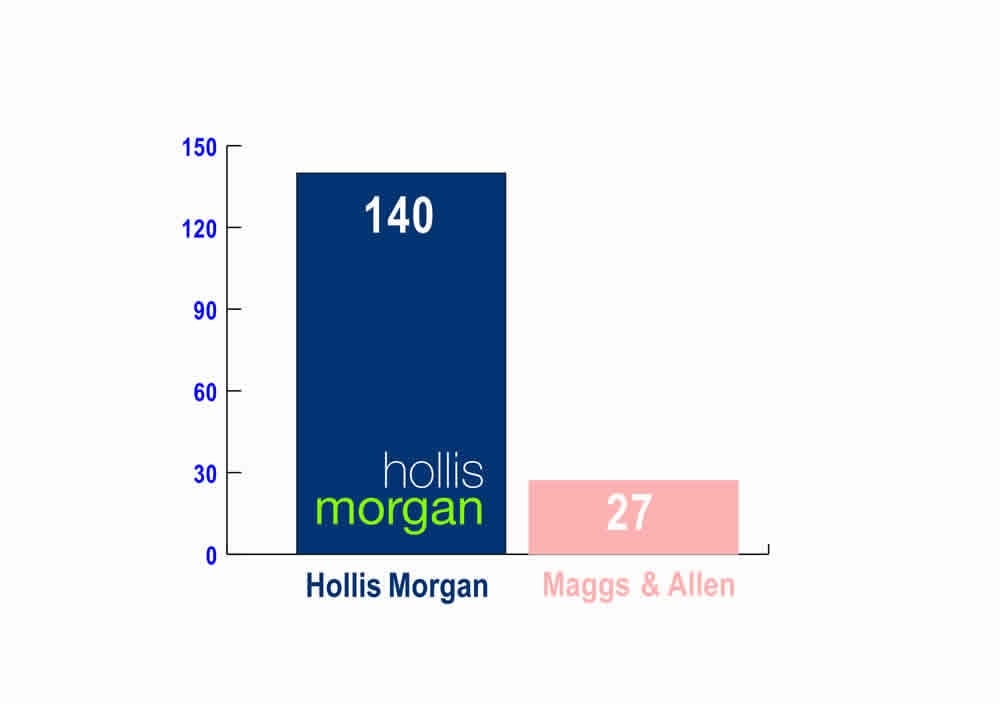 Total Sold (£m) Lots over £500k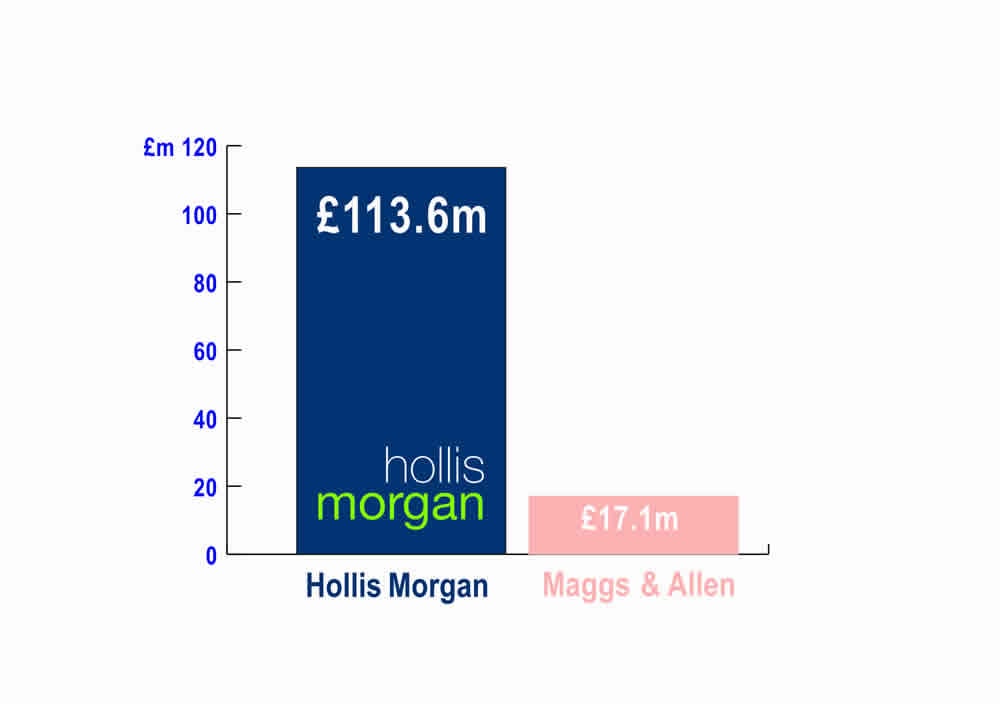 *Source EIG
Historic Statistics
Our 2010-20 Auction Statistics.
Total Raised from 2010 to 2020

Average Guide Price from 2010 to 2020

Average Sold Price from 2010 to 2020

*Source EIG
Close Statistics
In Need of Modernisation
Auctions are synonymous with selling properties in need of modernisation and for many years auctions were seen as a niche sector of the property market. In more recent times, as fans of day time TV will confirm, buying and selling at auction has become a normal occurrence and the profile of our buyers has changed dramatically in the last 5 – 10 years with many families and non property professionals participating and winning lots.
Royal Albert Road
Prime Family Homes
Auction can be an excellent way of maximising the sale price of prime residential property – especially those in need of some basic updating. The competition for family homes across the City is frantic with multiple interest and numerous proceedable buyers all competing for the same property – more often than not private treaty sales lead to a sealed bid situation which like an auction has the benefit of competitive bidding but the downside of no closure or exchange for often months after agreeing the deal. An auction is the best way to create a competitive buying environment but with an instant exchange and fixed completion date – we often sell homes to families with mortgages and bridging loans or in chains so you are not ruling out any potential buyers.
St. Matthews Road
Rural Homes & Country Living
Many City dwellers are desperate to 'escape to the country' in the aftermath of COVID continuing to dramatically change the demand and prices in rural areas. This means you can no longer rely on the historic sales values & local agents as in this new market properties are often worth what ever someone is willing to pay for them on the day – the transparent and competitive nature of an auction is the ideal way to maximise and identify the value of your property and appeal to the widest possible range of buyers.
Westerleigh Hill
Previously on the Market?
We are contacted on a daily basis by vendors who are on the market with local estate agents and for a variety of reasons want to speed up the process and sell their property.
The reason for not selling can be as simple as bad luck with chains collapsing, the slightly less forgivable terrible photos from the estate agent but more often than not the main reason for a property not selling is down to the asking price being too high.
Most properties are suitable for auction; we can advise you on a reserve and you can judge if this price allows you to move forward.
Hill Road
Land & Development Sites
Our auction clients have an insatiable appetite for land and development sites from across the region – we tend to focus on smaller plots with planning with 1 – 20 units and also land without planning.
Even in concentrated urban areas there are many potential development opportunities such as coach houses and stable blocks, small parcels of land, derelict buildings, properties with large gardens and car parks – we can help maximise the potential and advise on the best way forward.
Coach Houses & Garages
We always have buyers on our books looking for both personal use and investment - Garages are an excellent entry level investment with single units providing an income of up to £150pcm in Central Areas alongside increased competition from individual residents feeling the added pressure of Parking in the City with the introduction of the new RPZ scheme.
There is always the added bonus of garage ranks sites being able to gain planning permission for development providing a potentially lucrative exit plan for your investment. We sell a wide range of single, double and tandem garages as well as ranks of up to 100 units to private individuals and investors alike.
Probate Service
Following a death, the first thing that is required is a valuation of the deceased's property, often the biggest asset in the estate, in order to obtain probate. We can offer a sensitive, professional and fast service to deal instantly with property matters at, what can often be, a very distressing time.
Unusual Properties
One of the joys of auctions is the chance to sell unusual and often spectacular properties – often very tricky to value and with a guarantee of multiple interest.
We have been lucky enough to sell Castles, Churches, Mansion Houses, Lakes and Salmon Estates!
Priory Road
Auction Testimonials
Read what people say about us in the many letters, cards and emails of commendation, appreciation, pleasure and surprise that appear below - these are just some of the positive comments we have received since 2010 illustrating that we have consistently maintained excellent relations with our clients.
December, 2017
This is the second time we have used Hollis Morgan to sell a property at auction the first one was sold prior to auction but this one went to Auction. Olly was great met me at the property carried out an inspection and gave me figures there and then, he kept me informed all the way with viewings etc.. On the night Andrew who was the auctioneer was very good and comical and knew how to work the crowd he made the whole experience very entertaining although it was also nerve racking. I wouldn't hesitate in recommending Hollis Morgan to sell your property!
Courtfield Homes Ltd
July, 2020
The whole process of entering a property into the "virtual auction" was seamless and surprisingly simple.Follow up data requirements were handled swiftly and professionally as was marketing advice. The "team" were a delight to deal with and a' pre-auction sale' achieved.
M Ingham, BS6
October, 2018
Olly was excellent, every time I had a question he answered efficiently and always very supportive. Andrew was brilliant at the auction, he got rid of my house for me and an amazing support.
All around just amazing and really supportive. Thoroughly reccomend! Thank you so much!
Failand
June, 2016
Using Hollis Morgan was the best decision I've made. Friendly, professional and efficient service.
I would certainly use them again
DR, Easton

March, 2015
"Having been sceptical at first about using the Auction route for the sale of our garage, we were assured throughout and your professionalism shone through. The result surpassed our expectations and we were so glad that we listened to your advice and went through with it. An outstanding result..."
Graham, Clifton
August, 2014
Andrew, Olly, Lainey, Callum and Nick.
I would like to say that I would thoroughly recommend Hollis Morgan.
They have sold 3 flats at Auction for me in the last few months and have made the experience good fun, rather than being a chore.
So, many thanks to the whole team.
MM, BS8
March, 2017
I have been viewing a number of properties to purchase.
Hollis Morgan offer not just a superb professional service, they are a company with honesty and integrity.
Every viewing I went to was informative yet unpressured.
There is a culture throughout that is totally customer focussed, and genuinely so.
These are people who can be trusted.
Dave D9
November, 2016
Thank you very much for handling of the sale of our late father's house.
All stages progressed smoothly.
your excellent photos and presentation of the house particulars,
your patience and understanding of postponements due to probate delays,
your management of the property viewings,
your knowledgeable guidance concerning the reserve price on the night of the professionally managed auction
final completion of the deal.
We would have no hesitation in using Hollis Morgan again and in recommending the company to others.
Kind regards
S, L & C
April, 2013
"BNPParibas instructed Hollis Morgan to dispose of two repossessed properties in St Paul's and were very impressed with the professionalism and readiness to 'go the extra mile'
Our greatest please was in the result.
Both properties achieving sale prices in excess of their guide. I would not hesitate in using Hollis Morgan again in the future."

David Moore
MRICS BNP Paribas Real Estate
July, 2021
Thoroughly professional and very efficient. Made the whole process smooth and fairly effortless. We particularly appreciated the fact that we were constantly kept updated, were listened to when we had concerns or ideas and these always drew a swift and effective response.
Nigel Manning - BS7
October, 2017
Olly and his Team made the whole Auction experience a pleasure, after only ever being on the buying end, I had no idea what to expect from the selling point of view, but they made it easy and straight forward, and with the added bonus of getting me a great price for my Lot. Thank you
KH, Clevedon
June, 2017
Brilliant service and knowledge by Olly and his team at Hollis Morgan – would certainly use their services again.
Thanks for all your help from start to finish.
Becky ( Land Sale - Bristol )
Previous
Next
---
A Live online auction offers land and property for sale in a competitive manner, bringing sellers and buyers together in an interactive online marketplace hosted by Auctioneer Andrew Morgan MBE.
The auction process
In most cases the seller will have set a reserve price, below which the property cannot be sold. Once the reserve price is achieved, bidding will continue to a conclusion and the gavel will fall, triggering an immediate exchange of contracts with completion and full payment 4, 6 or 8 weeks later subject to contract.
Is my property suitable for auction?
Many properties are suitable for auction, for one or more of the following reasons:
Has the property been offered for sale on the open market and failed to sell?
Does it require modernisation?
Does it have development potential?
Will it attract multiple buyers?
Is it difficult to establish the value?
All types of land with, or without Planning
Has Planning Permission been Granted or refused?
Is there a need for transparency? i.e. when acting on behalf of Trusts or Public Bodies
Are you an executor?
Is it an investment property?
Is your property only suitable for a cash buyer?
Do you need to move quickly?
Can a fast sale solve a personal situation? i.e. in the case of debt or divorce?
As part of our valuation visit, we will advise you on the suitability of the auction process for your property
How do I place a property in an auction?
Simply call Hollis Morgan and tell us you wish to sell your property by auction!
Free no obligation valuation
Either Oliver Hollis or Andrew Morgan will visit you at the property and advise you whether it is appropriate for auction.
Setting the guide price and the reserve
We will recommend a Guide Price - this figure indicates to prospective buyers the approximate price range of the property. The Reserve Price is simply the figure below which you will not sell - and is confidential.
What costs are involved?
You will be surprised how little an auction costs!
Auction Expenses: you can enter your property into one of our auctions for just £350 +VAT - this is paid for in advance.
Sale commission: in addition, a commission will be agreed at the valuation usually a % of the final selling price - our fees are competitive and generally in line with traditional estate agents.
Other Costs to consider...
Energy Performance Certificate - from £80 + VAT
Legal Pack - Your solicitor will provide a quote or we can put you in touch with someone that can.
What happens during the marketing process?
Below is a breakdown on some of the key events that take place during the marketing campaign prior to the auction from marketing to behind the scenes preparation for the sale.
Viewings
Buyers submit a viewing request online and all viewings are supervised by a member of the auction team adhering to social distancing and PPE.
Auction catalogue
We use professional designers to create our stylish auction catalogue, with informative photography, accurate particulars and professionally prepared floor plans.
Our contacts
We have also carefully created an unrivalled mailing of 20,000 local, national and international investors, developers and self builders.
Legal packs
We will liaise directly with your solicitor to assist with preparing the auction legal pack - required for every auction property. The pack is available in digital format via our purpose built website for prospective buyers and their legal advisors to download 24/7 Free of Charge. ( We do not charge buyers for this service unlike some of our competitors ) The pack is an essential part of the marketing process as we have a tracking system to monitor which documents are being downloaded enabling us to target specific, interested parties.
Our online campaign
We pride ourselves on the very best online coverage for your property and subscribe to all the major property portals with auction specific adverts and specific marketing campaigns on both Rightmove AND Zoopla – many other auction houses feature on just one of these sites and miss out on potential buyers. We have also recently updated the Hollis Morgan website with video guides and easy to use access to all our Lots, Historical Sales data and archives.
Regional press
We have a high profile image in Bristol Property Live alongside regular adverts in the Weston Daily Press, North Somerset Times, Chew Valley Gazette, Gloucestershire Echo, Gloucester Citizen and Bath Chronicle ensuring your property is seen by all demographics across the region. We have excellent working relationships with these publications and regularly arrange for feature editorials to be published.
Window displays, targeted leaflet drops etc
Your property will be framed in our state-of-the art LED window display at our mews-style office.
We can deliver a professionally-produced flyer to the key roads in your neighbourhood - essential for garages and properties with immediate local interest.
We are always open to property-specific marketing techniques including video tours, professionally-taken photography and brochures. We have lots of ideas and expert contacts and are always open to suggestions!
Auctioneer Andrew Morgan MBE answers your questions…
What is the difference between a guide price and a reserve price?
Andrew says: Royal Institute of Charted Surveyors defines them as follows:
Guide price
An indication of the seller's current minimum acceptable price at auction. The guide price or range of guide prices is given to assist consumers in deciding whether or not to pursue a purchase. It is usual, but not always the case, that a provisional reserve range is agreed between the seller and the auctioneer at the start of marketing. As the reserve is not fixed at this stage and can be adjusted by the seller at any time up to the day of the auction in the light of interest shown during the marketing period, a guide price is issued. This guide price can be shown in the form of a minimum and maximum price range within which an acceptable sale price (reserve) would fall, or as a single price figure within 10% of which the minimum acceptable price (reserve) would fall. A guide price is different to a reserve price (see separate definition). Both the guide price and the reserve price can be subject to change up to and including the day of the auction.
Reserve price
The seller's minimum acceptable price at auction and the figure below which the auctioneer cannot sell. The reserve price is not disclosed and remains confidential between the seller and the auctioneer. Both the guide price and the reserve price can be subject to change up to and including the day of the auction.
Can I Set a Reserve?
Andrew says: "Yes - we will recommend a suitable reserve at our initial meeting and then monitor the level of interest and advise on a final figure ( within 10% of the guide price ) closer to the auction date".
Do I need a solicitor?
Andrew says: "A property cannot be offered for sale without a legal pack and this needs to be prepared well in advance of the auction and available to be downloaded from our website. This will contain special conditions of sale, title documents, leases (where applicable), searches, planning documentation and office copy entries'.
your auction questions answered by Andrew Morgan remember, when the gavel goes down the deal is done!
Can I watch the auction?
Andrew says: "Yes the auction is streamed live online from the Hollis Morgan website – just click on the link!".
Will my property be surveyed?
Andrew says: "Particularly in the case of family houses it is quite possible a prospective purchaser may wish to have the property surveyed prior to the auction, The auctioneers will make direct arrangements with the seller for this to be carried out. It is the buyers responsibility".
Should I keep the property insured?
Andrew says: "The seller should keep the property insured until completion has taken place".
What if it doesn't sell?
Andrew says: "If for any reason the property is not sold at auction it is quite possible the auctioneer may receive a post-auction offer from an interested party. Unless a sale is concluded quickly it will be offered, at no extra cost, in the next sale if the seller wishes".
Can someone make a pre auction offer?
Andrew says: "Yes – Once the legal pack has been completed potential buyers can submit a pre auction offer and if you consider it "as good or better than you would achieve at auction" and they can exchange on auction terms then a pre auction deal can be done".
Do I need to do the viewings myself?
Andrew says: "No – A member of the Hollis Morgan Team will supervise all viewings and ensure the property is left secure".